Store Location - - Gifts - - Main Page - - Background
---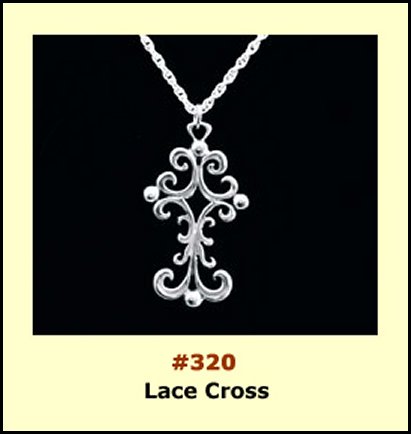 Lace Cross Charm in Sterling Silver - $76.50
As Christianity evolved, so to has it's symbolism, from the simple fish of ancient times to the highly ornate and bejeweled crosses which grace the modern day Vatican. Our Lace Cross, with its repeating curves and ornate touches brings to mind the complex and ornate crosses of France and Western Europe.
Listed price* is for the Charm only, in Sterling Silver. All jewelry designs are available in Sterling Silver, 14K Yellow or 14K White Gold.

All of our pendants are available with a variety of chain styles and lengths. Please call 610-439-8833 or e-mail us, should you have any questions.

* Prices are subject to change without notice due to any unforseen market jumps in precious metals. Please call for gold price and availability.
STORE POLICY: C. Leslie Smith, Inc. accepts Mastercard, Visa, American Express, and Discover card. In addition to credit cards we accept cash for in-store purchases. No checks of any kind are accepted. Returns are for Store Credit only - NO CASH OR CREDIT CARD REFUNDS. C. Leslie Smith will cheerfully replace any flawed items, however due to the delicate nature of jewelry and the inherent malleable nature of precious metals we can not be held responsible for any damage caused by: normal wear and tear, accidental or intentional misuse or destruction, theft, or any loss through conditions beyond our control. No guarantee or warranty of any kind is available or implied. Returns or exchanges for any reason are not allowed after 90 days.
Designs of Faith - - - jewelry main page